This is to notify All Federal University Dutsinma (FUDMA) students that based on the directive of the Vice-Chancellor:
1. The First Semester Registration Exercise for the 2022/2023 Academic Session is closing on Monday, 20th March, 2023 for Returning Students and Saturday, 25th March for New Students.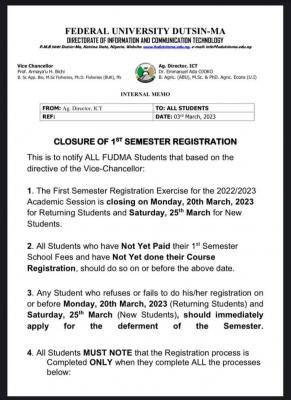 2. All Students who have Not Yet Paid their 1st Semester School Fees and have Not Yet done their Course Registration, should do so on or before the above date.
3. Any Student who refuses or fails to do his/her registration on or before Monday, 20th March, 2023 (Returning Students) and Saturday, 25th March (New Students), should immediately of apply for the deferment the Semester.
4. All Students MUST NOTE that the Registration process is Completed ONLY when they complete ALL the processes below:
i. Payment of school Fees/Charges
ii. Selecting and Registering Courses
iii. Confirming the Courses Registered
Note: If you've NOT completed ALL the three (3) processes above, your Registration is INCOMPLETE!
5. All Students on SIWES are by this directive advised to Register their SIWES as a Course, after Payment of their School Fees/ Charges on or before Monday, 20th March, 2023.
NOTE: No student on SIWES should come to the ICT Directorate pleading for mercy after deliberate refusal to comply with the above directive.
6. All students concerned MUST ensure they adhere strictly to the above notice.